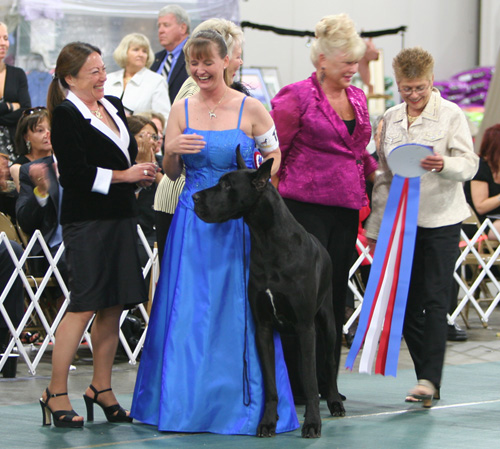 My name is Lorraine Matherly, my kennel name (although I do not have a kennel, this is the prefix I use for dogs that I have bred, owned and/or co-owned) is Lore. My dogs are treasured members of my family. My life centers around them and their care and well-being. I have enjoyed the pleasure of the company of Great Danes since 1985. Through the Danes, I have met and befriended people from around the world. The Danes have enriched my life in many ways and for that I am deeply grateful.
Living with a Great Dane is rather like living with a young child. They are mostly innocent and look to you for guidance. However much you give to them, they return tenfold. Adopting a Great Dane is a lifelong commitment…a Great Dane will wither without your attention so before you decide to do so, please give a lot of thought as to whether you have the time and inclination to give them the care and attention they need and crave.
Breeding for me is something I do not take lightly.  It takes a commitment to trying to achieve dogs that most adhere to their Breed Standard.  The Great Dane is an athletic dog, kind and noble…and when I see one that looks like the standard, it takes my breath away.  I bred for many years and as of this writing (March 17, 2020), I have not had a litter in my house for 13 years.  I thought that I was done.   Last year I decided that I love this breed and want to continue to be "all in".  To that end, I started looking for a female to begin again.  I found her in "Casaarabal's Will of the Gods".   The breeders had already named her before I saw her and I feel it was a divine sign.  Her baby photo gave me goosebumps.
And so, we start again.
If you are new to the breed or if I can help answer any questions for you, please email:  lorrainematherly@loredane.com.  I will try to help.  For the love of the breed.
I have owned or co-owned 22 champions, bred or co-bred 24, breeder/owner/handled completely 5, owner-handled 3 purchased Great Danes to their championships, pointed 5 others. Had 9 litters in my home.
I am an AKC Breeder of Merit.
I campaigned my bred by (Professionally handled): CH Lore's Joyride in 2008 to #5 Great Dane.
Owned and campaigned (Professionally handled) the number one Great Dane 2006: BIS/BISS CH Sasdania Vitag's Frozen Asset HOF, who was the sire of the top winning Great Dane in the history of the breed whom I co-bred and co-owned: BIS/BISS Platinum GCH Longo Miller N Lore Diamond Lil HOF. 2013 # 1 Great Dane all systems, # 3 working dog, #9 among all breeds, garnering a total of 38 Bests in Show, 22 BISS.
Below is a list of dogs I have owned, bred or co-bred during my career.
BISS CH Simmon's Belle Mode of Lore 1986
Rojon's Desiree of Lore 1986
Calico Rock's Monterey V Lore 1987
CH Lore's Bravado V Blackwatch 1989
Lore Safari 1989
CH Lore's French Cheesecake 1993
Lore's Country Gold 1993
CH Lore's Debonair Gent 1996
CH Lore's Favorite Son 1997
CH Lore's From the Heart 1997
Lore's Dressed To the Nines 1996
CH Lore's Shadow Dancer 1998
Riverwood's Hallelujah Lore 1999
CH Ironwood's Aspen Gold of Lore 1999
CH Lore's The Works V Ironwood 1999
CH Mardi Gras Lore Krews King 2000
CH Lore's Mr. Nice Guy 2000
CH Lore's Hearthrob 2000
Lore's Dressed to Thrill 2000
CH Lore's Tutta Bellla 2000
CH Temple Dell's Dane Lore V Schurstein 2001
CH Lagarada's Genuine Gold of Lore 2001
CH G'NHydane's La Terremotos of Lore 2001
BIS/BISS Am/Can CH Sasdania's Frozen Asset 2001
Producer of 59 champions, Number 1 Great Dane 2006 Top 20 Winner 2006
BISS CH Lore's Invaluable Asset, RN 2004 #7 Great Dane 2007
BISS CH Lore's Joyride,AOM 2005 #5 Great Dane 2008
CH Lore J'Adore 2005
CH Lore Bellemarc's Je'Taime 2005
CH Lore's Mardes Jaxon 2005
CH Lore's Kind Hearted Quincy 2005
CH Lore's Kandi Kisses 2005
CH Lore's Kind Hearted Quincy 2005
BIS/BISS CH Longo's Starr Studded V Miller 2005
No. 2 Great Dane Top Twenty Winner
CH Parthenon Lore's Got Moxi O'Belldane 2007
CH Bayside Lore's Just The Way You Are 2008
CH Bayside Lore's Just And True 2008
CH Parthenon Lore's Got Moxi O'Belldane 2007
CH Gracyn N Lost Creek's Cara Mia of Lore 2010
CH Longo Miller N Lore's That's Amore 2010
BIS/BISS CH Longo Miller N Lore's Diamond Lil 2010
Top winning Great Dane of all time Top 20 Winner
CH Belldane-Lore Tonka's Latest News 2012
CH Lore Cheshire Sweet Ride O'Belldane 2012
CH Lore Cheshire Riding High O'Belldane 2012
CH Lore Cheshire Riding High O'Belldane 2012
Indra's Moon Dance of Lore 2014
CH Longo Miller N Lore's Here Comes the Son 2014
CH Longo Miller N Lore's King James 2015
CH Longo Miller N Lore's Queen Bee V Nor'East 2015
CH Longo Miller N Lore's Sugar and Spice 2015
GCHG Double D N Lore's Ode To Joy 2015 #6 Great Dane 2018, # 7 2017 and #20 2016
CH Longo Miller N Lore's Ovation 2015
CH Valhalla N Lore's Rising Son 2018